3.

Building a catalogue of datasets¶

Building a catalogue of datasets
Maturity Level & Indicator
DSM-2-H3
3.1.

Main Objectives¶

The main purpose of this recipe is:
To detail the key elements for the creation of a data catalogue to enable data findability in an organisation.
We will cover the following points:
metadata model selection

annotation with controlled vocabularies

ETL

data loading

data indexing

facet oriented searching

minting of stable, persistent and resolvable identifiers
| Data Formats | Terminologies | Models |
| --- | --- | --- |
| JSON | | |
| RDF | DCAT v1 | DATS |
| RDF | DCAT v2 | DATS |
| JSON-LD | Schema.org | |
---
3.2.

Graphical Overview¶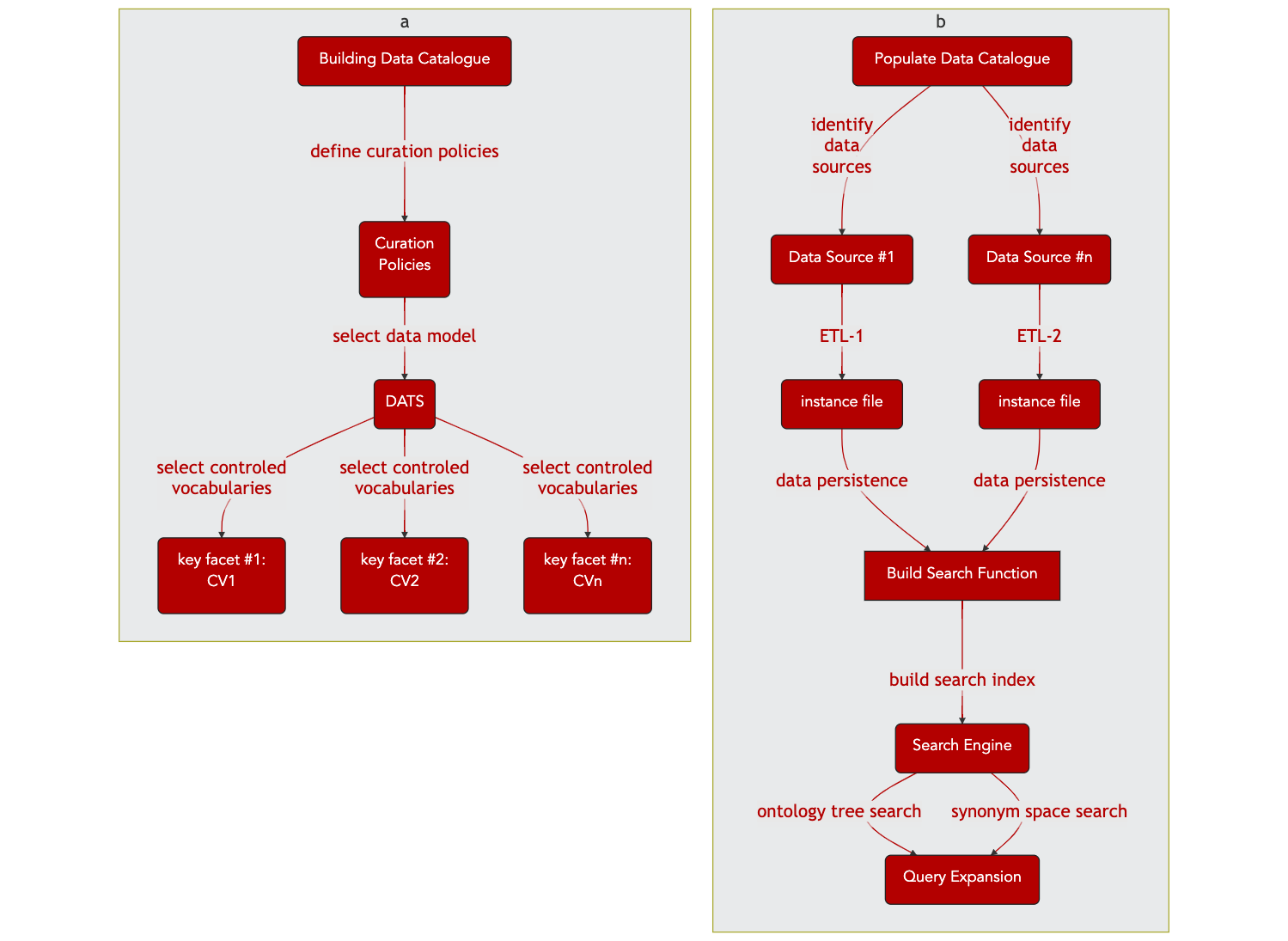 ---
3.3.

User Story¶

For role.Data Scientists, it is essential to be able to action.identify and action.discover datasets of potential relevance in the context of action.data integration and action.meta-analytical work.

For role.Database Managers, a lightweight solution is needed to support a shallow indexing supported fast ingest without intense curation, but good potential for data discovery. Works should rely on approved data standards.

For role.lab scientists, the key is to have a minimal burden when having to action.deposit a dataset to an institutional archive or simply action.register to dataset to the data catalogue.
---
3.4.

Main body of the recipe¶
---
3.5.

Conclusion¶

This recipe introduced the general concept of data catalogue and why they constitute a key capability to deliver data discoverability.
3.5.1.

What to read next?¶

We encourage the readers to either delve deeper into the specific of data catalogues by consulting the following recipes

For the readership interested in finding out about additional capabilities needed to enhance other aspects of FAIR such interoperability and reusability, see the following:
3.6.

References¶
References